Calendar:
summer 2014
Diving Sites
PAGANIA BEACH
This is 'our' reef as it is right in front of our dive centre facilities in Horton. From the shingled shore, a sandy bottom gently drops away as a 'grass' covered poseidonian lawn. Then, at a depth of 13 metres, the topography changes completely as a complex of rocks appears which shelters an abundance of marine life including a wide variety of Mediterranean fish. The Pagania dive is perfect for SCUBA divers of all levels as there are interesting reefs easily accessible from the shore that range in depth from 13-23 metres, with some dropping way to more than +30 metres.
ALATAS ISLAND I
Alatas is a small island in the Pagasitikos Gulf just a short boat ride from the our dive centre in Horton. It is a place characterised by interesting underwater rock formations, domes and steep cliff walls. It supports a rich biodiversity of marine life, making it a great diving destination. The fact that so much can be seen at a depth of 25 metres or less renders it an ideal spot for SCUBA divers of all levels.
ALATAS ISLAND II
In the underwater extension of the north of Alatas island, spectacular rocks jut up from the seabed as vertical monoliths, reminding divers of a miniature Meteora. It is a diving place of spectacular and dramatic beauty which delights all those who experience it.
DONTIA (TEETH)
This area named by the tops of the reef, whom like teeth pop up from the surface of the sea. From this point we start our dive and again we will have another meeting with new teeth reaching out through the sand in depth from 16-30m. The peaceful landscape, gives you the change for a relaxing and smooth dive.
FARAGGI (GORGE)
This dramatic dive site is characterised by an underwater rock wall that drops vertically to +40 metres. The numerous cavities in the rock invariably reveal different surprises which delight and encourage more investigation. At some time in the past a huge part of the rock formation split away, creating a narrow gorge which is spectacular to swim through. The 'silver rain' created by shoals of saddled bream or tuna gives the final touch to an amazing dive location.
TWIN CAVES
These spectacular caves are less than 100 metres apart and are very similar in their formation. The first is at 5 metres depth and the second, larger one is at 20 metres but its roof can be reached at a depth a little less than 10 metres. The walls of both are covered in sponges of various colours and shades, making an impressive multicoloured mosaic to behold. The surrounding reef falls steeply to +30 metres, offering a lot of alternatives for more experienced SCUBA divers.
"KALI TICHI" (GOOD LUCK) SHIPWRECK
The 'Kali Tichi' was built in 1917 in Holland but sank in Agia Kiriaki harbor on 25th of July1975 while heading to Heraklion in Crete. The ship was loaded with steel from the Volos Steelworks. It is 35 metres in length and lies upright but at a slight incline. The deepest dive point is the bow at 17 metres, making the site easily accessible divers of all levels. Being at such a relatively shallow depth also makes it ideal for underwater photography without the need for specialist equipment. The hull is well preserved and divers can safely penetrate its cargo hold and other areas. This really is the perfect site for those wishing to try their hand at wreck diving.
AGIA VASSO
Known as Agia Vasso by locals, this secluded beach on the Aegean side of the Mt. Pelion peninsular is also called Agios Vatos on some maps. This dive starts at a vertical wall that drops to 23 metres. Experienced divers then encounter a second wall that drops to +35 metres. Crevices at the base of this second wall along with dome formations and impressive monoliths make for an amazing backdrop for a vast forest of soft corals (gorgonias) which starts at a depth of 30 metres and are so bright in colour that they seem luminescent. This is a truly awe-inspiring dive. The return journey offers the chance to see a variety of colourful nudibranchs in more shallow water to add to the amazing photo opportunities that this dive affords for those prudent enough to bring along an underwater camera.
LEFTERIS REEF
This submerged reef in the strait between the Mt. Pelion peninsular and internationally renowned summer vacation spot of Skaithos island is a small rock with a big history. According to Herodotus, it was the cause for at least three Triremes of the Persian fleet sinking during the Persian invasion of Greece. In 480BC, by order of the Persian King Xerxes, a tall tower was therefore built on the rock to prevent further disaster and assure safer passage in the area. Being constructed some 250 years earlier than the famed Lighthouse of Alexandria, it is the oldest known maritime construction of its kind, parts of which were found and brought up by divers in 1928. Today, diving around the reef is a singularly unique experience. Vertical walls that vanish in the deep blue, forests of countless gorgonia corals, modern shipwrecks and abundant marine life including resident moray eels all make for a dive capable of exciting even the most experienced diver.
"VERA" SHIPWRECK
'Vera' is a 58 metre long cargo ship built in 1956 in Holland. It came to grief on Lefteris Reef in on the 10th February 1999 while heading from the Larko metallurgical plant in Larymna Fthiotidas to Thessaloniki. A few months later, it broke in two and sank. Today it is found at an easily accessible depth of +20 metres and forms a shelter for marine life. Its bow stands in a vertical position, while a few metres away its stern lies on its side. The wreck remains in good condition and parts of it can be safely penetrated. A great dive for those seeking the adventures of wreck exploration.
"VOLOS" SHIPWRECK
The 85.6 metre German commercial ship 'Volos' (ex Thasos) was built in 1902 at the 'Neptun' shipyard of Rostock. It was loaded with tobacco, oil and mineral spirits and travelling from Istanbul to Edinburg via Thessaloniki when it struck Lefteris Reef on twenty first of February 1931. Fortunately, the crew was picked up and taken to Volos by the Swedish ship S/S Belos. A few years later, the wreck starred in 'Menschen unten Heien' (Men among Sharks), a historical documentary film by the innovative Austrian marine biologist Hans Hass. The film depicts underwater shots of the bridge and a wooden helm which was later removed by local sponge divers. It also shows the ship lying in a vertical position with its foremast still visible on the surface. Since then, the wreck has slipped down the the side of the reef and now lies on its side with the bow at 35 metres and the stern at 65 metres. A haven for aquatic life of all kinds, 'Volos' is one of the most exciting dives in Greece which has even featured in Greek Diver magazine and an absolute must for experienced divers.
Join
excursions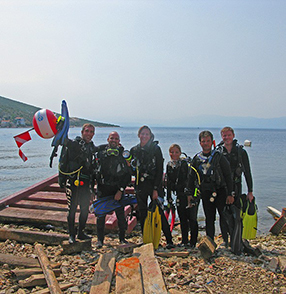 Padi
Instagram
Padi Instagram Stories from around the world.